Appraiser XSite
Business today is conducted almost entirely online, so having a website is a must. You need a company website where current clients and prospective ones (including non-lenders like attorneys and homeowners) can learn about your services and order an appraisal. But there's a big difference between your average website and an Appraiser XSite that actually brings you high-fee orders and showcases your expertise.
With XSites, you get an easy-to-use, professional-looking website with content that attracts new non-lender clients and keeps the old ones coming back with online ordering and easy ways to contact you.
Upgrade to a mobile-friendly XSite for just $199. Upgrade now
Upgrade now to earn more high-fee, non-lender work
You can now upgrade to these exclusive, mobile-friendly designs for just $199. In minutes, you can create a personalized website that can reach all of your potential customers on any device.
Please note, the free Standard Appraiser XSite will no longer be available. This $199 upgrade is the most cost-effective method for maintaining your online presence.
XSites keep getting better
Mobile-friendly XSite designs ensure your website is effective on any device, from massive desktop monitors, all the way down to an iPhone. Potential clients can quickly find your contact information, request a fee quote, and learn more about your services. Mobile-friendly designs also gives your search rankings a boost, which could mean more traffic to your website. Our new and improved Appraisal XSites can help you earn high-fee, non-lender work in any market, all year round.
"My a la mode XSite has been a major factor in the success of my appraisal business and is where 95% of my business comes from! It is my only form of advertising other than a tailgate sign on my pickup. I don't have a phonebook listing, advertise, or an office with a sign out front.

If you don't have an XSite you're missing the boat! Give yourself a chance to be competitive and get an XSite!"
Launch your XSite in minutes without slow, expensive web designers
Our easy step-by-step Wizard makes launching your site a breeze. Simply choose your domain name (".com") and then you'll be online in minutes.
And it's stocked with hundreds of pre-written appraisal pages and fully customizable, mobile-friendly designs. All your non-lender niches will be covered too, including pages geared toward attorneys, homeowners, lenders, agents, and more. You won't be left to rack your brain on what to say, what pages you need, how everything should look, and how it all should be built.
Plus everything can be edited with our simple word processor — at anytime. So you won't have to wait days or weeks on a web developer to get a chance to make the changes you need. You have full control.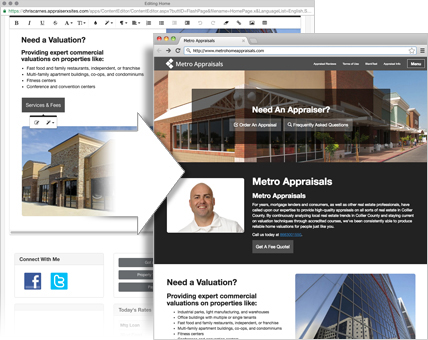 Quickly turn your anonymous web visitors into hot leads
Getting people to your website is great, but you have to capture their information, too. Add as many pre-built lead capture forms as you'd like, wherever you'd like. If you want even more non-lender leads, add specific forms like "Need an appraisal for PMI removal?" or "Property taxes too high?"
When filled out, the lead is sent straight to your e-mail and cell phone so you can respond in record speed. You'll be able to follow up quickly before they start shopping elsewhere or get irritated by a slow response.
Lastly, with XSellerate included with the Enterprise level, those prospects are automatically added to the perfect marketing campaign based on the form they filled out.
GhostWriter — beat your search engine competition without writing
If your website has old, stale content you probably aren't showing up when people search for appraisers in your area. Yet, you don't have time to write fresh pages. Our GhostWriter technology solves this problem automatically.
It takes your information (such as specialties, service areas, etc.), cycles them through pages written by marketing experts and remixes them in millions of unique ways. But don't worry — these pages aren't computer generated gobbledygook. They look impressive, and read like a real person wrote them.
Your site text will be different than any other appraiser's site, and search engines like Google love that. Plus, GhostWriter will "ghost" your pages automatically, on a schedule, so your content is always fresh.
Proactively get high-fee, non-lender work year round
Its huge library of pre-written, customizable marketing pieces are geared toward non-lender clients, including attorneys, homeowners, and agents. In a matter of minutes you can create proactive campaigns that send e-mail marketing messages about your expertise automatically. You'll also find an array of beautifully-designed print pieces like postcards and door hangers.
It's counter cyclical — when interest rates rise, causing refi and traditional mortgage work to decline, you'll thrive thanks to work from high-fee non-lender clients.
Learn more about XSellerate here.
"I have used XSellerate for many years. It does a wonderful job of reaching my clients, and I know they are reached from the status report that I get that shows how many recipients viewed each campaign I send out. Real time feedback on my marketing is awesome.

I have created print campaigns with XSellerate too. I take them around to my attorney and other non-lender clients for that personal touch marketing. It's tools like this that appraisers need to focus on in the current market climate.

a la mode has always been at the leading edge of residential appraisal technology, and has contributed to my success for more than a decade."
Get paid for your work faster
XSites help you avoid the collections nightmare with:
Integrated credit card processing on the web or your mobile device — no more bounced checks
The ability to require certain clients to pay before downloading reports
Clients can log in to your site to make payments, see what's due, and more
Automatic late payment notices that get sent as soon as invoices become past due
The ability to create and track one-off invoices for jobs that don't have typical reports (legal work, comp checks, etc.)
Automatic status messages — no more hand-holding
Throughout the appraisal process, your clients, and anyone else you want in the loop, get status e-mails at every milestone. Clients can also log into your website and check status online. No more check-in e-mails and wasted time playing phone tag.
The best part? It's all automatic. This level of service will help bond your relationship and bring you more orders and referrals.
Avoid unnecessary fee negotiations
Clients order online using the appraisal order page on your XSite (no phone tag). And you can set up fee tables in seconds. This way, you can charge different fees for different clients without advertising it. Or customize your fee by product type. Anything you choose will show up as the client is filling out the order form.
Plus, once the order is assigned to an appraiser, their split is automatically calculated based on your custom fee table.
Know where your website traffic is coming from and how to boost it
No more guessing about what works and what doesn't, with an XSite you'll be able to see how many people visit your XSite, what they're looking at, and where they're coming from. With this knowledge you have the power to improve the pages people hit the most and spend your time, energy, and money on what you know will bring you leads.
Get listed on XSites Network, get more exposure and leads
Just by having an XSite your profile gets listed on our XSites Network. It's our directory that generates hundreds of thousands of XSites hits for our customers and is highly ranked in the search engines. It's just one more way XSites works to get you more exposure to potential clients.
Check it out at www.XSitesNetwork.com.
24/7/365 support and free training — no delays or unanswered e-mails
Unlike most modern companies, we like your phone calls and it shows. In fact, your XSite is backed by a fully-staffed customer support team 24x7x365. You won't be left with voice mail or e-mail that might (if you're lucky) get answered a few days later. When you call us, you'll always get through to a real live human being who's charged with getting you productive immediately.
Our support center is based in Oklahoma City and you'll talk to an appraiser-trained professional any time (including 2 a.m. or Christmas Day) — for FREE.
Plus, with our training, your XSite is sure to be a success. We have live webinars and products coaches available to help you out.
See XSites in action and get more information
There's no other appraiser website like it
An XSite will help you get more high-fee, non-lender leads and turn them into clients. And, since they aren't generic websites and are built for appraisers, it also helps you complete your appraisals faster, get paid faster, and generate referrals and repeat business. In fact, we guarantee it. If you're not 100% satisfied with your XSite in 100 days, we'll refund every penny.
See it all for yourself. Your XSite will be up and running in minutes. Get a trial or buy now with no risk.
We're happy to look at your current website and compare it to XSites. Then, we'll help you get up and running. Give us a call at 1-800-ALAMODE or click here to e-mail us.