Storage solution built specifically for the appraiser's workflow
Vault is specifically designed for you and your workflow.
If you're upgrading machines or trying to recover from a computer failure, Vault will have you up and running in minutes. Today, we store nearly 16 million appraisal files, along with thousands of databases. It's the best option for appraisers to restore their work quickly, without unnecessary down-time or having to hire a technician.
Determine your data risk in an instant
Vault is more accessible and easier than ever to keep track of your appraisal reports. With the latest Vault integration enhancements made in TOTAL, you can use Vault SmartFilters and status icons to keep track of which reports are at risk, protected, or need to be updated due to edits made in reports between backups.
Filter reports by any of the four Vault statuses:

The most current version of a report is uploaded to the Vault.

You've made changes to a report and it will be sent to the Vault during your next scheduled backup.

An older version of a report exists on your Appraisal Desktop than what's in the Vault.

These reports are unprotected by the Vault and are at risk.
Check your Vault SmartFilters to see the percentage of files on your computer or network that are protected. Plus, view the number of files in each status and watch as they update in real time.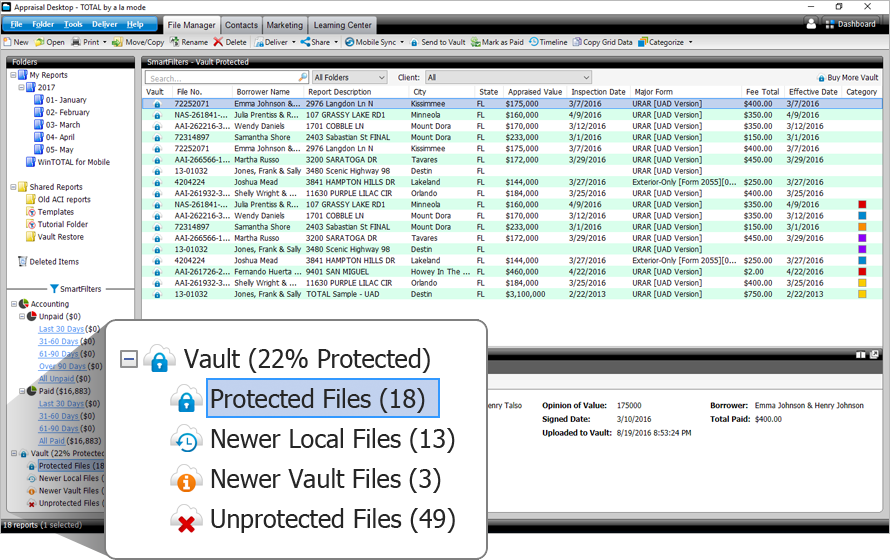 "I never understood the importance of Vault until I had computer issues. As an appraiser with constant deadlines, I don't have time for computers to malfunction and crash. But when it happened, I was able to sign in to my Vault account and simply copy the files I lost to my new computer. This feature is as important as technical support. I cannot imagine my appraisal business without the peace of mind Vault provides."
Why choose Vault over other online backup solutions?
Backup
Off-site storage safeguards from disasters and crashes.
Automatically backups both your appraisals AND your database information.

Store
USPAP-compliant storage for your reports.
Easy access to files, from anywhere, for audits and revision requests.

Share
Collaborate and share settings with anyone.
Provides a single storage location for an entire office's reports.

Recover
Transition to a new computer quickly and easily.
Tailored for Appraisers, unlike generic solutions that don't recover data entirely.
"Vault allows me to upload files and download files immediately and work directly from home. Vault also allows us to be a lot more seamless. I know for sure and have the peace of mind to know my files are backed up almost immediately.

The cost is very minimal for the peace of mind you get in return. To every appraiser out there, it is absolutely the easiest way to back up your files and know they're there and will be there if anything were to happen to your computer system."
Think you're safe with an external hard drive or "cheap" online storage?
Take a look at the comparison chart below to see how your backup solution stacks up.
Hard Drive
Dropbox
Google Drive
OneDrive
CrashPlan
Carbonite
Vault
Backs up automatically
1
2
2
2
Inside the TOTAL formfiller, quickly verify if a report is securely backed up with status icons
Long-term file storage, even for reports removed from your local computer
Saved offsite - files secure from theft, natural disaster, fire, and water damage
Easily accessible files from anywhere with an internet connection
1
3
3
Automatically stores databases (QuickLists, comps, signatures, and settings)
1
6
4
Automatically restores reports and databases (QuickLists, comps, signatures, etc.) back to the right place
45
24/7/365 phone support with appraisal trained, US-based technicians
Exports a list of report data for bookkeeping and audits
Restores files to the Appraisal Desktop
1
45
Search appraisal-specific fields (address, client, and inspection date)
Typical appraiser downtime to restore databases (QuickLists, comps, signatures, and settings)
N/A
N/A
N/A
N/A
1+ day 6
1+ day 4
A few minutes
Typical appraiser downtime for file recovery
1/2+ day
1/2+ day
1/2+ day
1/2+ day
1/2+ day
1/2+ day
A few minutes

Requires additional configuration and setup, and is dependent on the backup program that comes with the hardware.
Removed from the cloud if the file is removed from the local machine.
Files are inaccessible, but require navigating through multiple folder structures.
These plans start at $599 annually
Can overwrite the existing versions of files that are restored.
Database "dump" files must first be created before storing them, otherwise they may fail to backup or restore properly.

Data comparison accurate as of 3/1/2018 and is subject to change at any time.
Go paperless, share with your office, and spend less time at your desk
More than just emergency file backup, Vault is absolutely necessary workflow tools. With Vault, access your files from any PC with an Internet connection to address audits or share notes with peers, without relying on email that may or may not go through. It's like an online file cabinet.
Plus, it's integrated with TOTAL and WinTOTAL's exclusive Workfile, storing all your forms, unused comps, photos, notes and more with the delivered report. If an auditor calls with questions a month after you finished the report, simply pull up your entire Workfile from the cloud — no more trips back to the office to answer simple questions.
With Vault, your WinTOTAL and TOTAL settings and databases are always stored in the cloud. When you bring on a new trainee or office manager, they'd simply download your files to get up and running. They'll have your customized preferences, QuickLists, and databases. Your office will stay consistent in no time.
Leave other online storage solutions for your family photos. See why Vault is designed specifically for appraisers.
"I seamlessly back up every report I am working on without having to think about it. If I have a crash, restoring them is easy. When changing to a new machine, it easily transfers all my settings and QuickLists without me having to recreate anything except for importing my templates and files using the Vault.

Vault is basically a set-and-forget tool that you forget you have until you need it. Then, it's like a gift from God."
Six reasons to rely on Vault over other storage solutions:
Disaster could wipe out both your PC and backups if stored locally
If your PC and external drive are stored in the same vicinity fire, floods, or tornadoes could wipe them both away. Backing up with Vault allows your data to be stored safely off-site in the cloud.
The Vault can't be lost or stolen
And it can't fail the way external hard drives can (just like the hard drive in your PC).
Many external drives require you to manually transfer files for storage
Even some of the most sophisticated external hard drive software requires you to do tedious manual configuration to make sure everything's backed up. With Vault, it's automated so you don't have to do a thing.
With other solutions, your files may get backed up, but NOT your databases.
Your databases — QuickLists, comps, contacts, etc. — are SQL databases that are constantly "in use," so they aren't always backed up. We've talked to appraisers who needed to restore their databases and were shocked to find that the service they were using for years never backed them up.
Others aren't intended for backup AND storage
For instance, with Carbonite, if you delete a file from your PC, it's also removed from Carbonite's servers 30 days later. That doesn't work for appraisers who don't want to worry about keeping files on a computer. With Vault, files get uploaded automatically when saved and aren't deleted unless you decide to log in and manually remove them. On that note, Vault doesn't limit your file sizes either – 1MB or 10MB, they all get saved.
It could take hours or days for restoration
We've heard horror stories from appraisers that have had full system restorations take up to a week with other solutions. Meanwhile, they were at a standstill. Don't risk that happening to you. Restoring your computer (or setting up a new one) with Vault takes minutes, not days. You're back to work faster, with everything you need at hand.
Get back to work faster with Vault
Thousands of appraisers rely on Vault to keep their businesses safe, paperless, and efficient. Get it now and rely on our 100-day, 100% money back guarantee. You can't lose.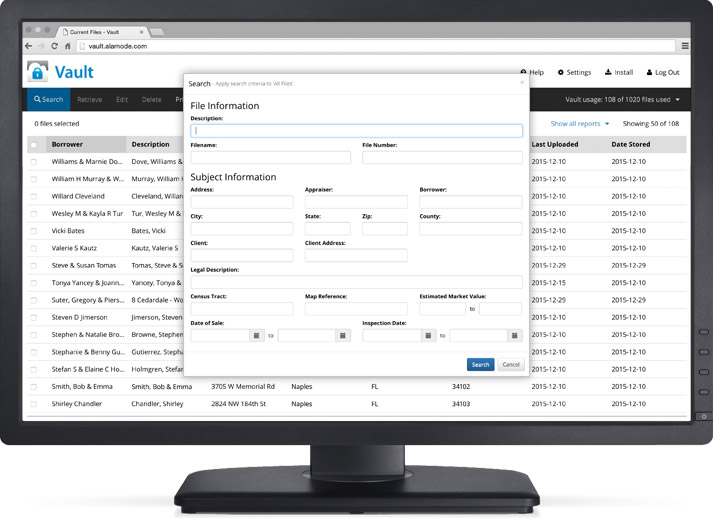 Titan Drive is here! Just like Vault, Titan Drive will securely store your reports and back up your user settings. But with Titan Drive, you can access your files across multiple platforms, get unlimited file space, and more.
With the release of Titan Drive, Vault will no longer be available for purchase. Please visit the Titan Drive page for purchasing options.