Effective, automatic marketing for appraisers
Marketing is especially easy with XSellerate
Maintain contact with existing clients and start conversations with new ones through XSellerate — your automated, proactive marketing expert.
With XSellerate, marketing is easy, and you'll get more repeat business, referrals, and new clients as a result. With automated print and email campaigns, you'll thrive throughout the year regardless of what the market is doing.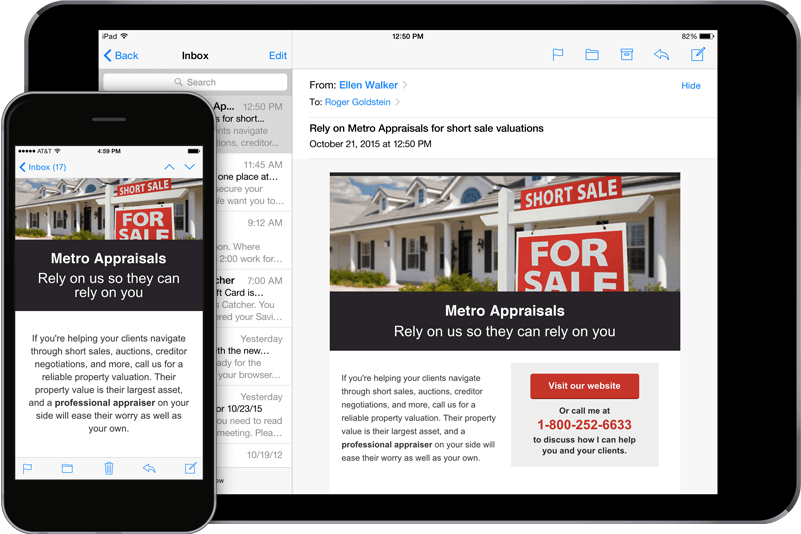 Effective appraisal marketing made automatic
XSellerate is your automated, proactive marketing expert. Unlike generic emails, its huge library of pre-written, customizable marketing pieces is aimed at specific non-lender niches.
Bring in high-fee orders with targeted ready-made campaigns
Homeowners
Send monthly emails to homeowners whose properties you've appraised in the past. Choose from a variety of messages targeting their needs or focus on one specialty like PMI removal, FSBO, etc.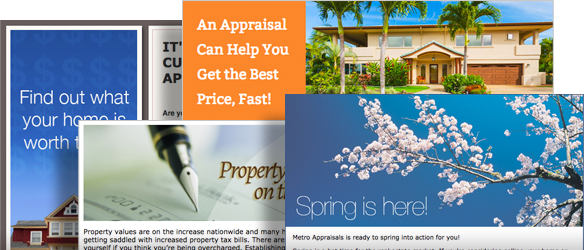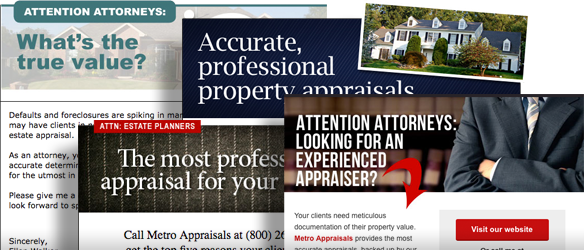 Attorneys
Showcase your specialties and professionalism (expert witness, estate division, foreclosure, etc.) or send an introductory message covering your broad variety of services.
Continuous orders
Send a professional thank you note after each appraisal, letting clients know you appreciate them. A few weeks later, ask them to refer you.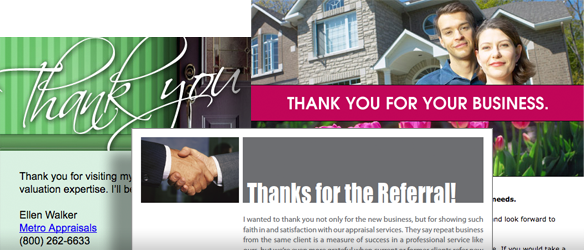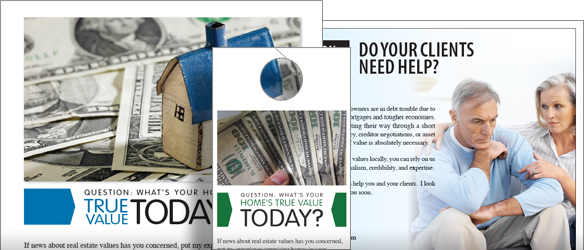 Print pieces
Print flyers and door hangers to take with you on assignments. When out on an inspection, leave them on a few doors in the neighborhoods.
Set your campaigns up in minutes and get orders in days – it's easy as…
1. Choose your campaign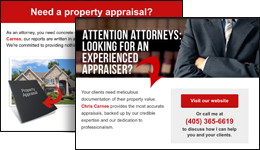 2. Choose your contacts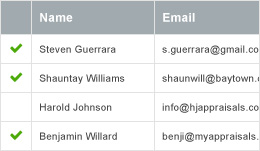 3. Choose your schedule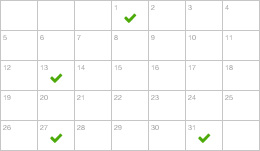 That's it! Your campaigns will go out automatically, and you'll get a daily report to show success.
Take control of your income with the only appraiser marketing system guaranteed to deliver new business
XSellerate will proactively help you get new clients that pay higher fees. It's counter-cyclical — when interest rates rise, causing refi and traditional mortgage work to decline, you'll thrive thanks to work from attorneys, homeowners, real estate agents, financial counselors, and more.
Appraisers consistently using our marketing tools have stayed busy despite the slowdowns. That's because they marketed even when business was booming. It's proven effective marketing that you won't find anywhere else.
Put it to work today. Start getting high-fee orders tomorrow.
| Huge ad library | |
| --- | --- |
| Hundreds of pre-written, professional designed, graphic-rich ads | |
| Includes both email and print ads, such as postcards, flyers, and door hangers | |
| All ads are customizable using a built-in editor that works like a word processor | |
| Create your own ads from scratch. No limit on the number of new and customized ads you can create | |
| Ads are categorized and are searchable, making it easy to find the right ad for the right occasion | |
| Ad Library has content for every marketing situation, type of client, and activity you encounter | |
| No charge for new ads added to the Ad Library | |
| Easy marketing and reporting | |
| --- | --- |
| One-page tracking view of ads sent, ads read, and site visits generated | |
| Simple campaign creation | |
| --- | --- |
| Create a marketing campaign in three easy steps | |
| No limit on the number of campaigns you can create | |
| Campaign ads can be scheduled for delivery on a specific date, or by a set interval of days between ads | |
| Campaigns can be a mix of print and email ads | |
| Schedule future delivery of printed material as part of a campaign, and XSellerate will automatically prompt you when it's time to print and send postcards and brochures | |
| Includes label printing functionality with support for most major mailing label types, including Avery™ mailing labels | |
| All email campaigns are CAN-SPAM compliant | |
| Contacts and integration | |
| --- | --- |
| No limit on the number of contacts | |
| Contacts can be imported from Outlook or an Excel spreadsheet | |
| Configure XSite lead generation forms to automatically add new leads to specific campaigns based on the form filled out | |
| XSellerate will automatically send your contacts an email when your XSite is updated or a new blog post is created | |
| Built-in anniversary campaigns will automatically send birthday greetings and holiday campaigns to your contacts | |