Hassle-free, money-making websites for Inspectors
Inspector XSites are much more than inspection business websites. They've got the built-in power to get you more business, cut your expenses and make you more efficient. Plus, they'll give your business a high-end first impression, with the ease of use and instant personalization of a template site.
Plus, you'll get features no one else offers: A custom online inspection order form, an online calendar for clients to schedule appointments, XSites Mobile for instant notifications on your mobile device, instant ".com" setup, and so much more.
But don't just take our word for it. Click here to buy now and try it for yourself today. You're backed by our 100 day money back guarantee. If it doesn't work for you, we'll refund every penny.
Buy online now or give us a call at1-800-ALAMODE.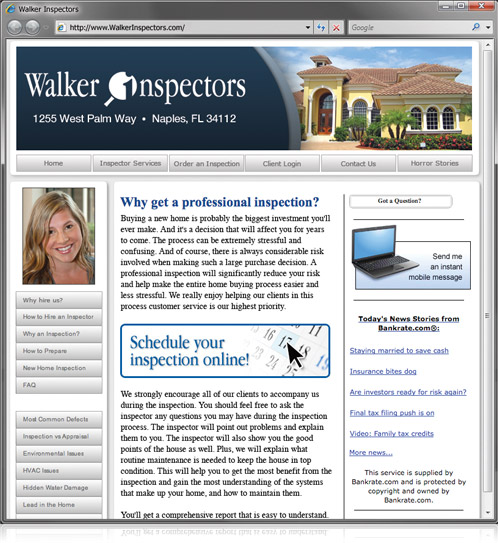 Build more than a website, build your business
Inspection-specific, professionally pre-written content that's ready to go
Easy online inspection order form
Online calendar so clients can schedule appointments on your website
XSites Mobile gives you text messages instantly when you get new online leads
24/7 live, expert help
100 day, 100% money-back guarantee. The 100-day, money-back guarantee is applicable on new purchases only.