Watch from anywhere on your own schedule!
Become quick, efficient, and accurate with TOTAL
Developing Compliant Reports Using TOTAL (4 hours)
This training video will show you all the ins and outs of TOTAL from the initial set-up all the way through the delivery process and properly backing up your reports. If you're looking to get the most out of your software and spend less time on every report, you can't miss this course.
You'll learn:
How to set up TOTAL – organize files and contacts, signatures, copy older appraisals into TOTAL
Starting reports using templates, online orders, and merging from old reports
Compliant formfilling in less time

Reusing comments with QuickLists and recent responses
Data entry, automatic error checking, and UAD shortcuts
Essential hotkeys that help you fly through the form

Photos — Importing, managing, notating, and editing
Managing comps

Using comps from old reports, importing from your MLS
Formatting, editing, sorting, and making adjustments
Avoiding underwriter calls with SmartAddress

Maps — adding professional street, aerial, and flood maps
Writing detailed addenda with far less typing
Delivery — compliance and error checking, signing, backing up your report and its workfile
It's ideal for:
Appraisers who just switched to TOTAL
TOTAL users that aren't using it to its full potential
New appraisers or trainees
Experienced a la mode users who have never attended a seminar
Office managers
Appraisers that attended a formfilling seminar, but need a refresher
Appraisers that need to upgrade from WinTOTAL Aurora
Read more
Follow along step-by-step with the course manual
Each training video comes with a manual for you to follow along with. It includes detailed instructions, photo examples, and even provides icons that indicate which topics have supporting documentation or Tech Tips on our website. Preview below.
Developing compliant reports
Mobile Appraiser Workflow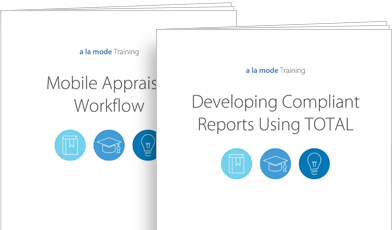 Go fully mobile and paperless
Mobile Appraiser Workflow (4 hours)
This is the most in-depth, practical course on mobile appraising. We started offering it in 2013 and have refined it since. So, if you want to cut your retyping time, boost your accuracy, and cut your paper costs, you can't skip this course. After all, we've built mobile apps since the early 90s and have helped thousands of appraisers go mobile along the way.
You'll learn:
Easy ways to get rid of your paper
Prep your report for inspection on your device before you leave the office
The ins and outs of our TOTAL for Mobile™ app

Customizing which fields you see, in which order, to match your inspection routine (Click here to learn more about TOTAL for Mobile)
Using voice notes and QuickLists to fly through data gathering
Adding photos straight to your forms onsite

Field sketching 101 (Sketch a complex 6000SF property with the instructor!)

Explain the basic drawing modes, including exterior and interior walls, modify, and place cursor mode.
Sketch basic straight, angled, and curved lines.
Learn to re-open an area and revise lines without deleting large portions of your sketch.
Solving measuring problems using a DISTO laser measurer
Sharing files without going to the office or emailing
Other apps for appraisers – share files without email, optimize drive routes, access files on your office PC, taking your MLS to the field, and more
Which accessories we recommend
And more!
It's ideal for:
Any appraiser that wants to put their tablet or phone to work
Office managers that want to go paperless
TOTAL for Mobile users that want more tips
Appraisers that aren't using TOTAL, but want to learn about mobile techniques
Read more