Titan Drive is the foundation of Titan Reports and the bridge to TOTAL and TOTAL for Mobile.
Titan Drive is changing the way you and your peers work. You'll securely store your reports across multiple platforms, back up and access your user settings, easily collaborate with coworkers, and more. Titan Drive is your key to Cloud Appraising.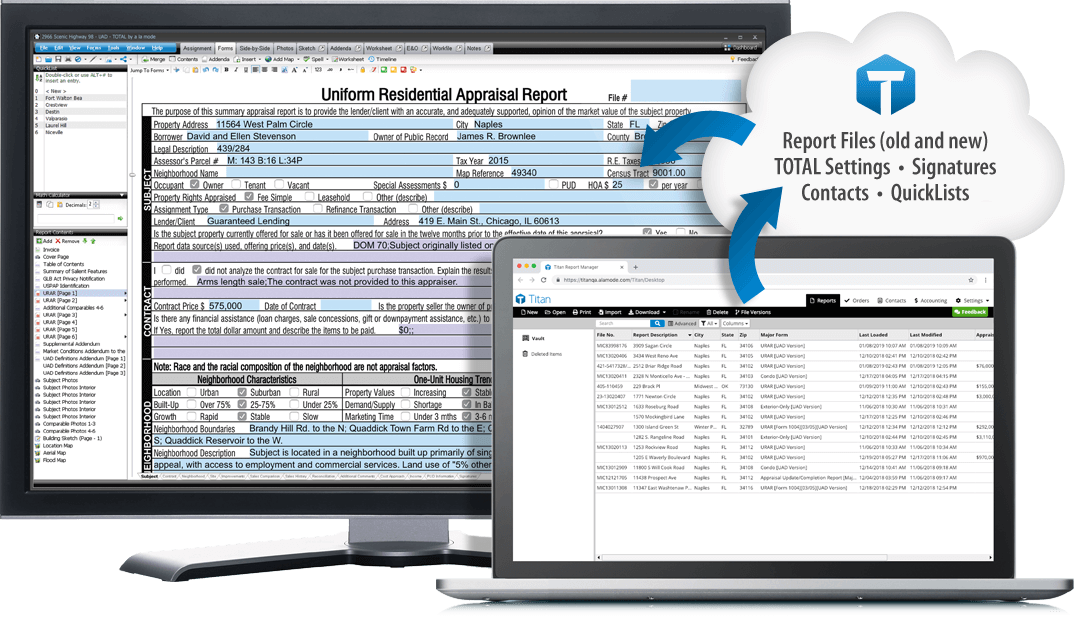 Everything you need. Always in sync.
Titan Drive keeps all your reports, user settings, QuickLists, signatures, and more all in one place — making it easy to recover from a hardware disaster or upgrade to a new computer.
Collaborate with other appraisers
Titan Drive files are updated in real time, so your coworkers can open a shared file and immediately pick up where you, or a peer left off. No need for a network with remote staff and virtual offices.
Your all-in-one network for appraisal reports and settings
With Titan Drive, everything is available on your private cloud, so you're no longer tethered to a costly-to-buy-and-mainatin server infrastructure. Simply rely on Titan Drive to connect and support your multi-appraiser workflow with no additional hardware.
Use it any place, on any device
Whether you're working inside TOTAL on your office PC, on a business trip with your Macbook, or in the field using TOTAL for Mobile, you'll always have access to your most up-to-date reports.
No limits on files storage
You've got years of appraisal reports to back up. So with Titan Drive, the sky is the limit. That means no more warnings about file space, and no need to buy additional space when you run out.
Be sure to watch your inbox.
Titan Drive is coming December 2018.