Connect to the office from wherever you are
Remove the restrictions of office walls by taking your reports with you anywhere you go. When revision requests come through, you don't have time to go on a wild goose chase looking for files on different apps — or worse, on another computer that you can't access.
That's why Titan Drive can be filtered by appraiser-specific fields, like Effective Date, Inspection Date, Invoice Date, and more. All you need is one tiny piece of info to pull a report in seconds.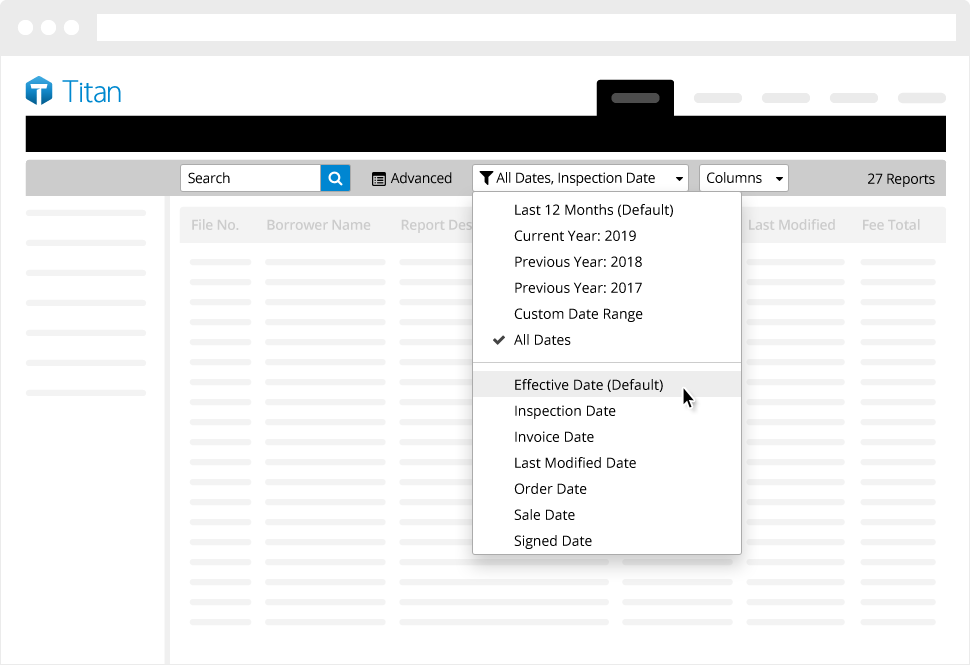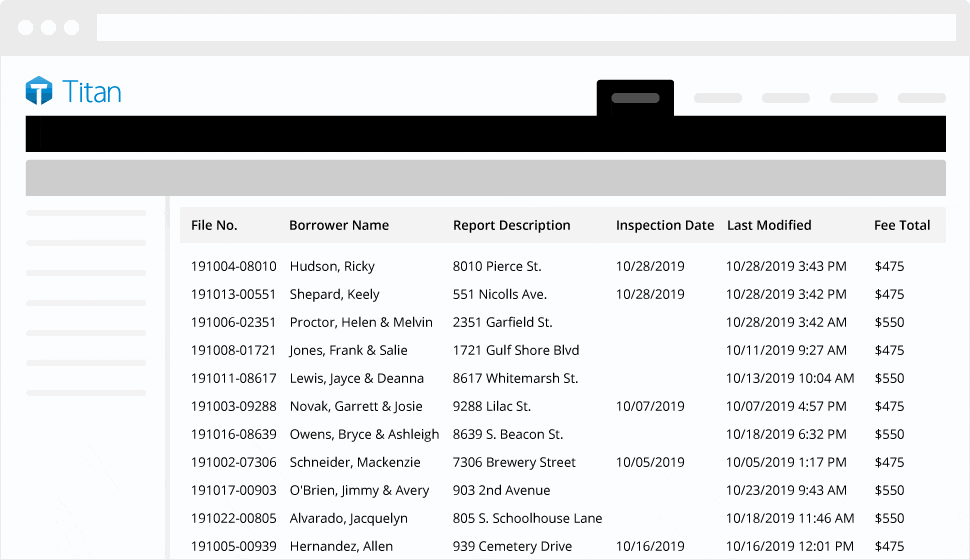 Edit reports on the fly
It's not enough to only have access to your reports. You need a way to view and edit them. With the tight-knit integration between Titan Drive and Titan Reports, you can. Use the advanced search options to pull up a report, double-click to open, and dive right in. Save your changes and deliver from your browser. Compare Titan Drive against other backup solutions.
"Our whole office is saving everything to Titan Drive. I love knowing everything is saved to the cloud and that it's all in one spot, backed up, with nothing to worry about."
Store your reports and settings with confidence
With Titan Drive, there's no cap on the number of files you can store, which means no more weighing their value and deleting the less significant ones. There's plenty of room for all your reports.
When you use Titan Drive, all your QuickLists (canned comments), essential settings, and signatures are uploaded to Titan Reports and readily available when you log in. This makes for a seamless transition.
In the event of a PC disaster, Titan Drive makes it impossible to have downtime. You have access to everything online. Once you're up and running, restore everything from the cloud into TOTAL.
Take a look at the comparison chart below to see how your backup solution stacks up.
Hard Drive
Dropbox
Google Drive
OneDrive
CrashPlan
Carbonite
Sharefile
Titan Drive
Backs up automatically
1
2
2
2
Inside the TOTAL formfiller, quickly verify if a report is securely backed up with status icons
Long-term file storage, even for reports removed from your local computer
Unlimited file backup and storage
Collaborate with others, make edits, and see changes in real-time without having to email, call, or share a link
Make edits on the spot while viewing files in the cloud
Saved offsite - files secure from theft, natural disaster, fire, and water damage
Easily accessible files from anywhere with an internet connection
1
3
3
Automatically stores databases (QuickLists, comps, signatures, and settings)
1
6
4
Automatically restores reports and databases (QuickLists, comps, signatures, etc.) back to the right place
45
24/7 phone support with appraisal trained, US-based technicians
Restores files to the Appraisal Desktop
1
45
Search appraisal-specific fields (address, client, and inspection date)
Typical appraiser downtime to restore databases (QuickLists, comps, signatures, and settings)
N/A
N/A
N/A
N/A
1+ day 6
1+ day 4
N/A
Minutes
Typical appraiser downtime for file recovery
1/2+ day
1/2+ day
1/2+ day
1/2+ day
1/2+ day
1/2+ day
N/A
Minutes

Requires additional configuration and setup, and is dependent on the backup program that comes with the hardware.
Removed from the cloud if the file is removed from the local machine.
Files are accessible, but require navigating through multiple folder structures.
These plans start at $599 annually
Can overwrite the existing versions of files that are restored.
Database "dump" files must first be created before storing them, otherwise they may fail to backup or restore properly.

Data comparison accurate as of 7/19/2019 and is subject to change at any time.