Intuitive, powerful sketching for mobile and desktop
TOTAL Sketch is your floor plan sketching solution for desktop and mobile devices. It's easy to use, built in-house, and transfers all your data, including GLA, room count, and more into TOTAL instantly.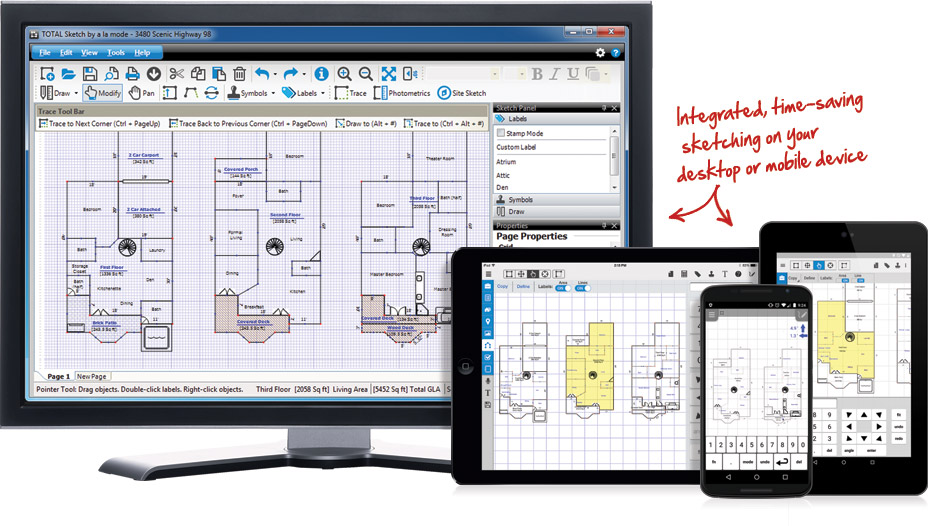 Go Pro and get the most time-saving features
TOTAL Sketch is better than ever — better design, better features, better usability
Sketching is vital to what you do, and your software should be able to keep up. The all new TOTAL Sketch is easier and faster than ever before.
Here's what's new:

A redesigned, clearer toolbar with more options
Nearly everything is now accessible from the toolbar. The better icons also serve a very specific purpose: If you have a touchscreen Windows PC (a Microsoft Surface, for example), the new icons with higher contrast make it easier to select the tools you need when you're out in the field and the sun is glaring on your tablet screen.
More hotkeys and options
You can do things like "draw to wall" with one keystroke, swap your point of beginning, and much more without ever reaching for the mouse. (Click here for all the keyboard shortcuts.) At the same time, we made sure there are matching menu items, so explore the menus and you may see things you didn't know Sketch could do.
Go Pro and get the quick, timesaving features to save you the most time
TOTAL Sketch Pro is a paid upgrade to TOTAL Sketch that includes advanced features you won't find in the free version, like:
Free integration with other sketching programs: Included now — We think advanced users will prefer Sketch Pro to other sketchers like Apex and RapidSketch because of its features and low price. But, if you're still paying extra for an outside sketcher and want to use it, the integration is included with the Pro level.
Trace mode: Included now — This is a phenomenal timesaver and accuracy booster for two-story and basement properties. You simply "trace" over the first level to sketch subsequent levels in a few seconds. Use Trace Mode on your Apple® and Android™ devices too.
See Trace Mode in TOTAL Sketch
Photometrics: Draw over hand-drawn sketches, building plans, or aerial images to complete both simple and complex properties quickly with less hassle.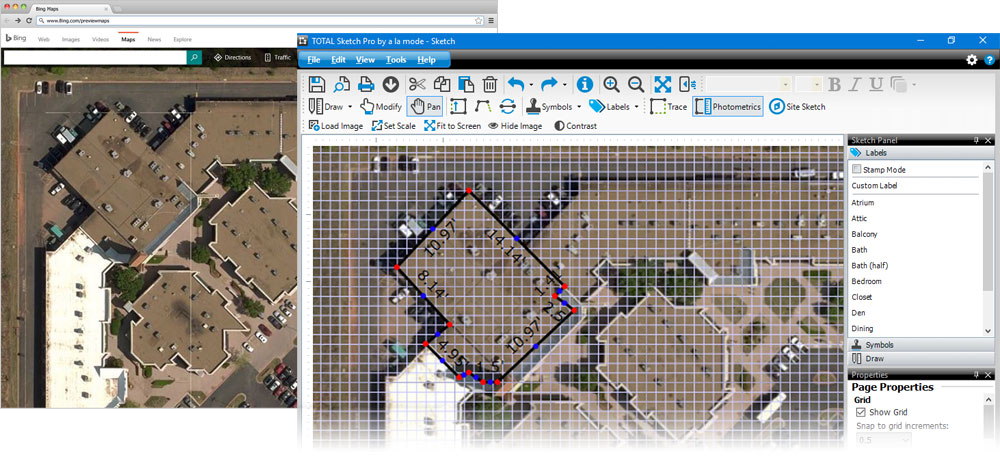 "The Trace feature included with TOTAL Sketch Pro is essential for appraisers who have to complete multi-story home reports. I found it extremely helpful, especially if the structure is a higher-end, custom quality design with many angles in walls. The Trace feature is a must-have tool for an appraiser to be more efficient."
Go paperless and lose the clipboard
Creating detailed mobile sketches is as simple as tapping and swiping with your fingertips. Simply enter your measurements, then swipe and tap to draw exterior and interior walls. Or, send measurements from your Bluetooth-enabled DISTO laser measuring device directly to your phone or tablet.
It's easy to define lengths, angles, arcs, and areas. Drop in custom symbols and labels for a completed sketch in the field. So no more carrying around that clipboard or spending thousands each year on paper and file cabinets, TOTAL for Mobile™ syncs effortlessly to your desktop so you'll never need another scrap of paper. All your notes, photos, measurements, and comments are all kept in the Digital Workfile, available any time you need it without having to hunt down a manila folder.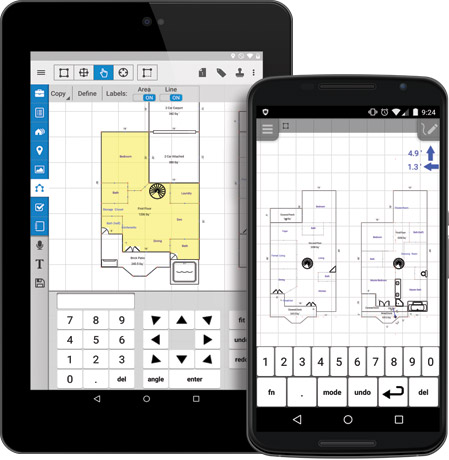 "TOTAL for Android allows me to upload my photo pages right at the subject, during the inspection. I use TOTAL Sketch, switching from Apex. While it took some adjustment, I now love it. TOTAL for Mobile syncs seamlessly. I have eliminated a camera on my inspections. I now carry only my phone and my laser measurer. I am at my inspection 2-5 minutes longer, but I am assured to have all the data I need prior to leaving. The field pad allows me to jot down any and all notes I need, just like the old clipboard. I figure with the mobile app, laser measurer, and photos, I am saving, easily, 20-30 minutes PER house."
STANDARD (free with TOTAL)
PRO ($129/yr)

Buy

Buy now

Available for Apple® and Android™ devices
Calculated areas transfer back to your report seamlessly
Easily draw angles, curves, and polygons
Draw multiple areas at once or combine walls into areas
Comprehensive library of customizable symbols and labels
Easily copy, paste, clone, undo, and redo
Use rooftop Bing™ aerial images and your subject photos to spot-check floor plan shapes
Syncs with TOTAL for Mobile — start sketches in the field then sync to add finishing touches on your desktop
Converts from third-party sketchers like Apex
Unlimited customizable area types
Fly through data entry with custom QuickLists for nearly every field — even better, sync them from TOTAL
Eliminates clipboards, messy papers, and wasted time from retyping written notes
No Internet or data connection needed to collect data and sketch
Take as many photos as you need using your device's camera
All of your data, photos, maps, and sketches flow right into your report
Freeform sketching for making a rough sketch without measurements
Pro — Free integration with other sketching programs
Pro — Trace Mode: A phenomenal timesaver and accuracy booster for multi-story properties
Pro — Photometrics: Upload an aerial image, specs, buildings plans, etc., set the scale, and trace

Buy

Buy now
"Wow. I will admit up front that I am a dyed-in-the-wool Apex user. I saw the Photometrics feature [in TOTAL Sketch] and it definitely piqued my curiosity. Over the weekend, I had a subject that was tailor-made for using this feature. I have the overall width from a survey, and I had a scatter of dimensions on the building, but not all. I dropped in the image and it took me no time at all to finish tracing five different areas on my ground-level floor plan. As I traced over the lines that I did have dimensions on, the scaling from that initial scale-check was working perfectly. I went back and tried tracing another sketch in Apex and finally gave up. I had trouble scaling the image to begin tracing accurately."