Land lower-maintenance clients, better fees, and year-round work
There are a lot of generic website vendors. But they're not built for your business, right out of the box. Since you're working long hours appraising, you don't have time to write, juggle several providers, and research search engine tactics. That's where XSites dominate. They're the only websites built specifically for appraisers.
With XSites, you get an easy-to-use, professional-looking website. With content designed specifically for appraisers and easy ways to contact you, you'll attract new non-lender clients and keep the old ones coming back.

THEME

Arrow

THEME

Reliable

THEME

Home bound

THEME

Simplicity

THEME

Customer Focus

THEME

Value Added

THEME

Quality Service

THEME

American Flag

THEME

Commercial Storefront

THEME

Local

THEME

Boutique

THEME

Scale
New designs look incredible on mobile devices — where homeowners, real estate agents, and everyone else searches
Potential clients are searching for appraisers at the coffee shop, on the phone, or from the couch with their iPad. Don't miss an order because your site doesn't show up in mobile search engines or visitors hit "back" when your site is hard to navigate. With new mobile-friendly designs and an interactive service map, you'll sell across every device. Better still, Google prefers these designs, so you'll likely show up higher in search results.
"My a la mode XSite has been a major factor in the success of my appraisal business and is where 95% of my business comes from! It is my only form of advertising other than a tailgate sign on my pickup. I don't have a phone book listing, advertise, or an office with a sign out front.

If you don't have an XSite you're missing the boat! Give yourself a chance to be competitive and get an XSite!"
Launch a website in minutes — we've done the hard work for you
Your website is pre-built. Simply choose your domain name (".com"), which pages you'd like, and a design — then you'll be online in minutes. All your company data flows into your XSite, and our GhostWriter technology even customizes your web pages to be unique to you.
And it's stocked with hundreds of pre-written appraisal-specific pages (including videos) you won't find elsewhere, and lead capture forms designed to turn anonymous visitors into clients. Plus, everything can be customized with our simple built-in text editor at any time.
All your non-lender niches will be covered too, including pages geared toward attorneys, homeowners, and more. You won't be left to rack your brain with what to say, how everything should look, or how it all should be built.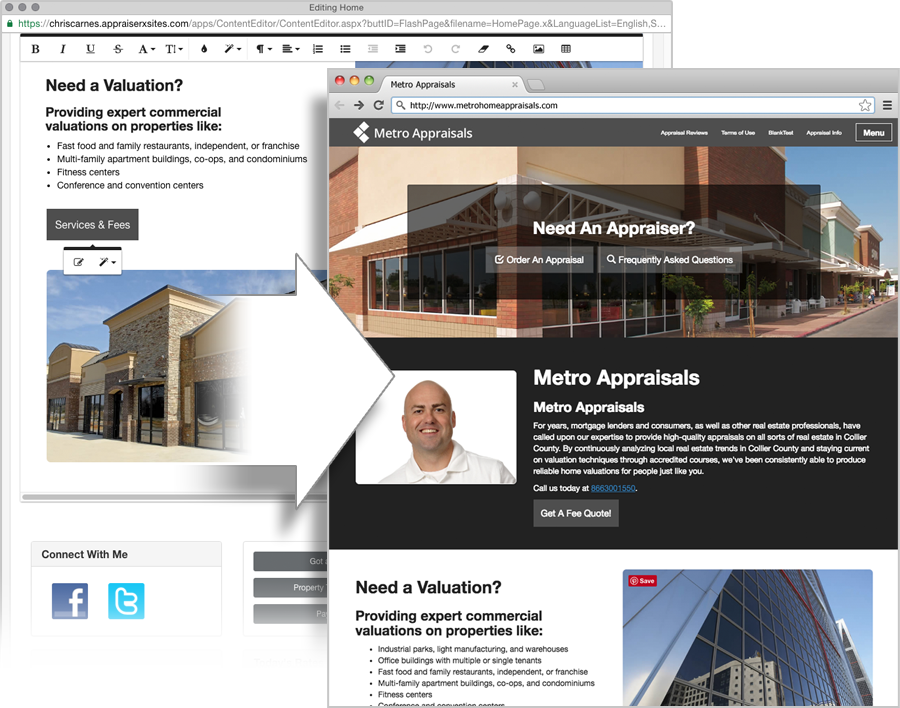 Proactively get high-fee, non-lender work year-round with XSellerate
XSellerate is your automated, proactive marketing expert. Unlike generic emails, its huge library of pre-written, customizable marketing pieces are aimed at specific non-lender niches like attorneys, homeowners, etc. In minutes, you'll set up proactive campaigns that send email marketing messages automatically. The pieces range from holiday e-cards to reasons to order an appraisal.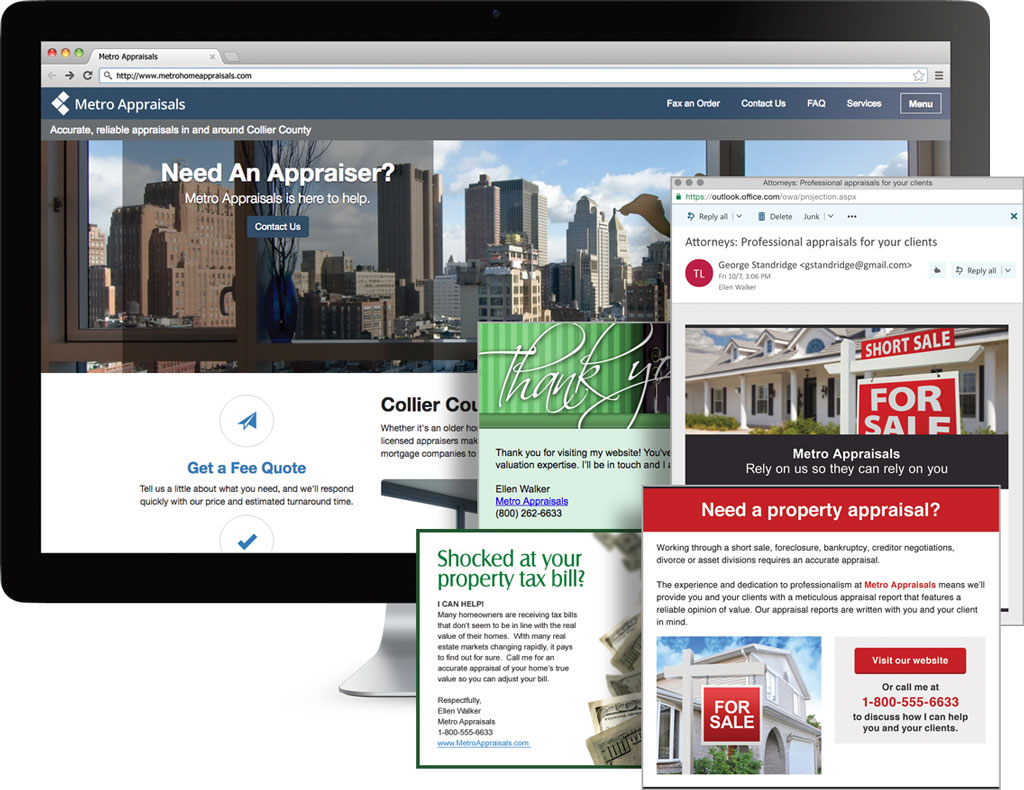 Tip: Educating clients and raising fees
Clients may not know what goes into an appraisal. Your work has become dramatically harder with increased requirements and more research. Use the content in your XSite to educate. Set up XSellerate emails that do things like explain why your square footage is more accurate than what's on the MLS. Once they understand your process, it will be easier to raise fees.
Clients searching for an appraiser will choose you, not your competition
Search engines like Google reward sites with fresh content by ranking them higher. So, if your website has old, stale content, you're probably not showing up when people search for appraisers in your area. Our GhostWriter technology solves this problem and constantly keeps your site updated with new, unique content.
It takes your information (such as specialties, service areas, etc.), inserts them into pages written by marketing experts, and remixes the content in millions of unique ways. The results are impressive and read like a real person wrote them.
Plus, you'll be listed on XSitesNetwork.com for more exposure to potential clients. There were over 400,000 referrals from the XSites Network alone in the last year.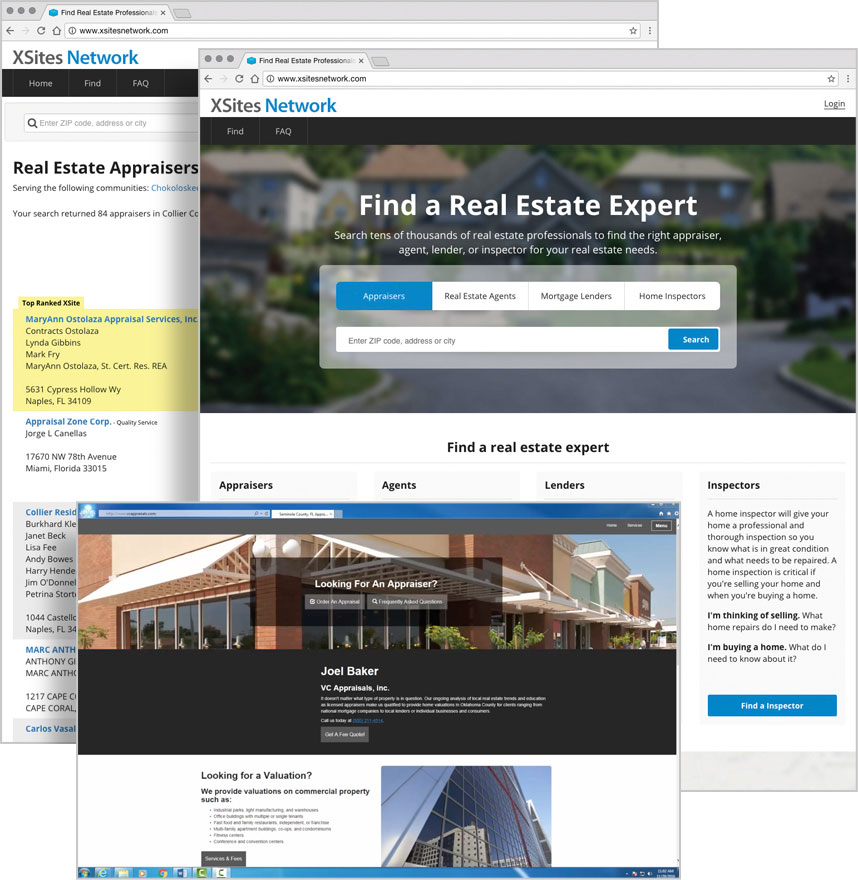 Turn website traffic into orders with forms and automatic follow-up that sell
Getting people to your website is great, but you also have to capture their information. Use our "Got a Question?" and "Contact Us" forms or, for even more non-lender leads, add specifics like "Need an appraisal for PMI removal?" or "Property taxes too high?". Or, try our popular Fee Quote page so visitors can request a quote.
When filled out, the lead information is sent straight to your email and cell phone, so you can respond in record speed. You'll be able to follow up quickly before they go elsewhere.
Lastly, with XSellerate, those prospects are automatically added to the perfect marketing campaign based on the form they filled out.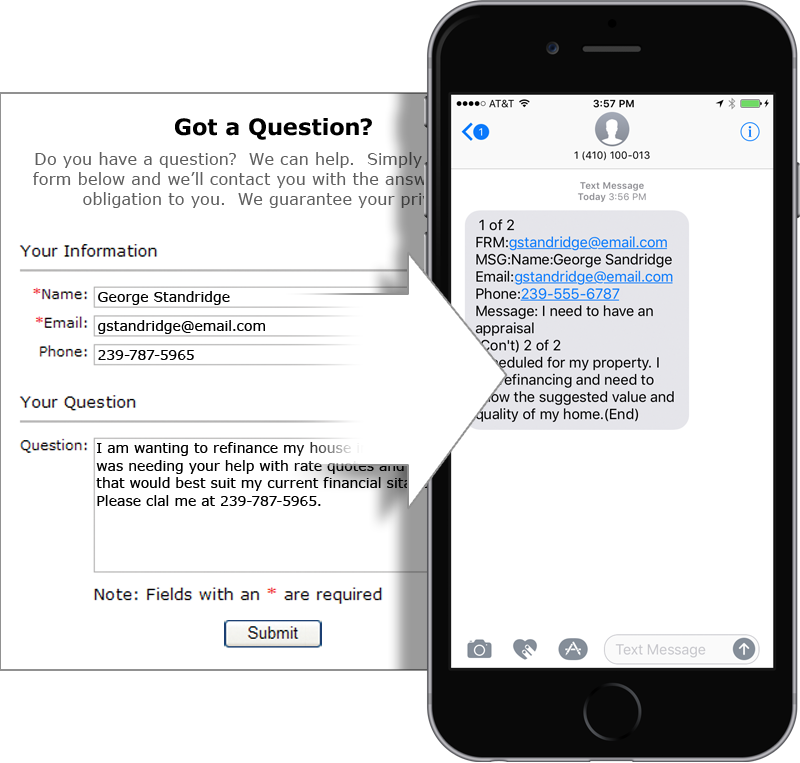 Manage your web orders without all the frustration
Once those non-lender orders start pouring in, you'll need a way to keep track of the money you're owed. With an XSite, you'll get features inside Titan Office that will make a dramatic difference in your bottom line. From integrated credit card processing to defining Job Types and Client Fees, XSites come equipped with tools to help you run your entire business with fewer hassles and more profit. See which Titan Office features you have access to just by owning an XSite.
Tip: Avoid unnecessary fee negotiations
Setup fee tables to charge different fees for different clients without advertising it. Clients can log in to your site to make payments, see what's due, and more. Plus, once the order is assigned, the appraiser's split is automatically calculated based on your custom fee table.
There's no other appraiser website like it
An XSite will help you get more high-fee, non-lender leads and turn them into clients. And, since they aren't generic websites and are built for appraisers, it also helps you complete your appraisals faster, get paid quicker, and generate referrals and repeat business. In fact, we guarantee it. If you're not 100% satisfied with your XSite in 100 days, we'll refund every penny.
Go ahead and give it a try. Your XSite will be up and running in minutes. Get a trial, buy now with no risk, or upgrade to the Elite System and get it included.