What is it? Going above and beyond in advocating and supporting appraisal organizations.
Our new Community Partnerships Program is taking appraisal advocacy to the next level in a way that other software vendors have simply refused to do. It's that black-and-white.
We're supporting your state and national appraisal organizations — large, small, local, or national — through software discounts for members to help them grow membership, lower costs for members, and provide community-focused products. Far more than just advertising sponsorships and speaking engagements that other vendors opt for — this is action. It's not words and promises. It's not just basic sponsorships. It is tenacious engagement and real results. (And for the record, we'll still be sponsoring, speaking at, and exhibiting at events. These efforts are how we're going above and beyond in appraisal advocacy.)
We'll support every organization that we can regardless of how many (or few) of its members use our products. This effort transcends software boundaries. We believe our investment in the endurance of the appraisal industry is unrivaled. Our focus is protecting your means of earning a living. After all, your services are critical to the nation's economy. You'll see that these programs are a testament to that commitment to you and your profession.
We're already working with these organizations

Affinity partners — Get real cash to fund your organization (on top of sponsorships).
We fully expect to give hundreds of thousands of dollars to appraisal organizations through this system. What's more is that we want to.
When you become an Affinity Partner, proceeds from your members' a la mode purchases go straight to your organization. It doesn't matter if they are new purchases or renewals (even early renewals count). It's a simple way for you to earn much-needed funding from software purchases your members already make each year.
How it works:
We'll give you a "Give Back" code that's branded to your organization.
Share it with all of your members.
Every time one of your members — or any appraiser for that matter — uses your code when they place an order, your organization gets a percentage of the purchase.
These aren't credits either. They're quarterly cash back rewards that you'll see deposited in an account of your organization's choosing. It's real cash for you to use however your organization sees fit.
Partnered Education Courses — Extend your organization's reach, benefits, and knowledge.
Tap into education and organization benefits with our:
Unmatched training for your members
Substantial discounts for your organization's membership
Marketing to non-members to bolster your recruitment efforts.
We get constant requests to host training sessions at various association meetings across the country. That's where the idea for the Partnered Education Courses program was born. It helps you leverage a la mode-hosted training events.
We host the sessions and they include our wildly-popular Mobile Workshops, our new Modern Appraiser Roadshows, and other courses we develop along the way. All training is designed to help appraisers get more efficient, cut operating costs, and grow their business. It's real-world education they'll use daily — not the usual regulatory classes they've taken over and over.
We're going to help you by getting your organization's name and content in front of appraisers. Plus, we created a new tiered rewards system.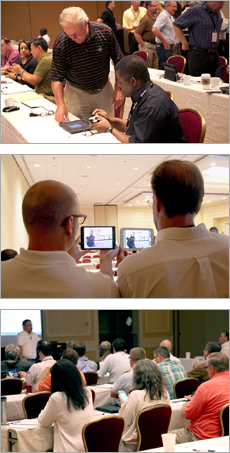 How it works:
We'll create a discount code that's branded to your organization.

Use the code as you'd like — as a members-only code or for non-members in order to bring new people to your Education Event.

Appraisers that use your code are tracked through the purchase process.

You'll receive one point for every a la mode customer that makes a purchase using your organization's code.

You'll receive two points for every new customer that makes a purchase using your organization's code.
More points equals greater marketing & recruitment benefits.

Your organization will be added to our event marketing materials.


You'll have a manned (or unmanned) table at the Education Event to market your organization.

Handouts from your group will be added to the packet all attendees are given.

We'll send an email with your content on your behalf to local appraisers.

We've partnered with local appraiser organizations across the country.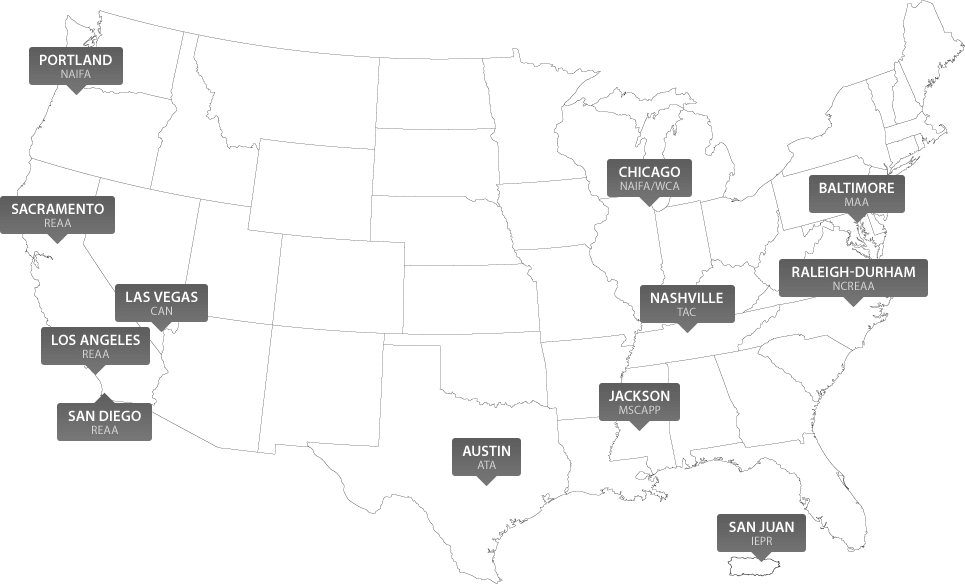 Speaking, exhibiting, and sponsorship. We'd love to participate at your event.
We'd love to speak at, exhibit at, and/or sponsor an event your organization is hosting. It helps boost attendance and gets more money in the door for your appraisal group. And we want that to happen so you can defend and advocate for appraisers interests in your area.
After all, appraisers crave "news from the forefront", and we're experts when it comes to valuation and real estate technology. Just look at the awards and accolades we're…well…awarded. And it's obvious we're technologically ahead of the competition. Also, when we speak at your event, we spend time developing the material so it's unique and useful to your audience, rather than a warmed-over sales pitch. Because of this, our presentations help boost attendees — whether they're our customers or not.
Plus, our participation will help you get the word out about your event through our marketing efforts. When we attend seminars, meetings, and conventions make it a point to announce that we're there through our many communication channels.
If you would like us to take part in your next event, let us know here. Be sure to include dates, number of attendees expected, and location.
We've participated at these local events across the country.

Columbus, OH - OCAP
Speaking engagement and exhibitor

Austin, TX - ATA
Exhibitor

Austin, TX - AI Connect
Exhibitor

Tacoma, WA - ACOW
Exhibitor

Lisle, IL - ICAP
Exhibitor

Sandy, UT - UAU
Exhibitor

Las Vegas, NV - Appraisal Summit
Exhibitor

Greenville, SC - SCPAC
Taught class and exhibitor

New Braunfels, TX - ATA
Taught class and exhibitor

Phoenix, AZ - AAREA
Speaking and exhibitor

New Jersey, NJ - NJNAIFA
Speaking and exhibitor
Community Support Technology — Lowers organizational costs and helps with marketing
We're building products that will help appraisal organizations reduce overhead and give appraisers more control over their data. There are some big ideas in the works, and we have some very real offerings available right now.
To kick the program off, we're happy to offer your group:
FREE Community XSite for a strong web presence.

Completely eliminate your hosting and web development costs.
Get a domain name (www.yourgroupname.com) for your organization.
Offer members password protected pages for internal announcements.
Enjoy all of the benefits of our Elite level Appraiser XSites — unlimited content, mobile-friendly themes, GhostWriter SEO booster, fully customizable lead generation forms, etc.

Click here to see everything. This is a yearly retail value of $799, so your group will save thousands.

FREE XSellerate proactive marketing system

Market your organization via email and print campaigns to appraisers, lenders, agents, and other industry players.
Campaigns are pre-written for associations and fully customizable
Reduces design and postage costs for outreach efforts
Enjoy all of the benefits of XSellerate for appraisers.

Click here to see it all. This is a yearly retail value of $299.
You'll have these products for the entire time that you're participating in our program — whether it's two years, five, ten, or even more. They will help you grow your membership so we want you to keep them and put them to work for life. We're in this for the long haul.
Let's make the appraisal industry stronger!