Take advantage of the freedom and flexibility you now have.
Titan Reports is free, and the perfect companion to TOTAL for when you need to create, edit, or deliver on the fly. It's perfect for beginning a report at the office in TOTAL and wrapping things up in Titan Reports, from any location, or vice versa. Whether you're at a family cookout, on vacation, or attending a seminar, you're never too far from the office. You can even use it on a tablet!
"I use my laptop every day as my work computer. In the office, I hook it up to several monitors to work in TOTAL. But I don't like taking my laptop with me everywhere. With Titan, I don't need it.

I can just take my tablet, and if someone calls with a question or needs something changed, I can look it up real quick with Titan Drive. Then, make my edits in Titan Reports, re-sign, and deliver the file right back to my clients. It's really easy to use."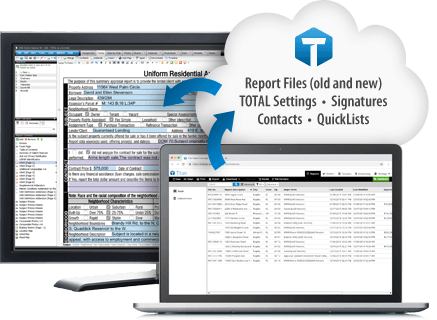 Plus, if you have Titan Drive, your reports and Workfile data will be automatically stored and immediately available on all your devices for use in Titan Reports and TOTAL. And, once you've linked your TOTAL user to your a la mode account, your essential QuickLists, recent responses, and signatures will always be in sync — so it's easy to go from one device to another. (Not sure how to link your account? Click here to watch and learn.)
Dive in head-first with no learning curve. Hello, muscle memory.
Titan Reports uses the same workflow as TOTAL, so it feels surprisingly familiar with all the features you're used to. Just log in, and go.
Trim seconds off common entries using recent responses and custom hotkeys.
Sift through the forms library to use any form that you'd find in TOTAL.
Use SmartStart to pull in data from old reports or templates in a snap.
Continue to provide quality market analysis using Titan Analytics. Your report will stand out with solidifying data points and story-telling charts and graphs.
Prevent mistakes and reduce revision requests with our powerful E&O engine.
Insert location and InterFlood maps and make annotations as needed.
Deliver top-notch sketches using our new, powerful Titan Sketch.
"I love the versatility of being online. This opens up so many options for those of us on multiple platforms and on the go. I can now upset my wife even more by working from anywhere, even the beach! I like not having to be tethered to my desktop all the time."
Three ways Titan Reports will save you time:
Get rid of IT and reduce expenses
Say goodbye to the headaches associated with networks and VPNs. They're complicated, temperamental, and unnecessary.
Forgot about installing updates
Web-based products update automatically, so there's no need to aimlessly watch a progress bar minutes at a time. They just happen.
No more lost data after a crash
A PC crash can have you down and out for hours, or even days. But, with the cloud, you can easily jump to another device and pick up where you left off.
Finally, OS equality.
Some people simply aren't PC people, and that's okay. If a Mac or Linux operating system hits the spot for you, we've got you covered. Since the Titan Family is all cloud-based, your hardest technical decision will be deciding which browser to use.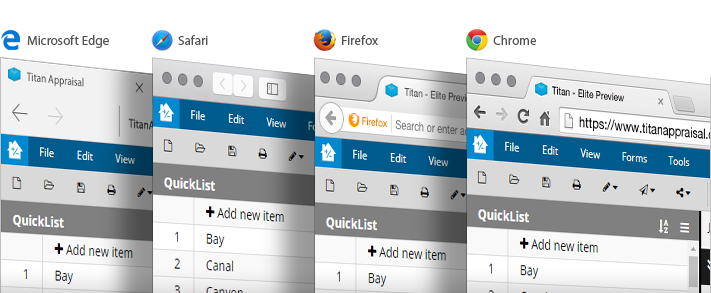 "It works in Safari on my Mac! WOOHOO! This makes it so much easier to make corrections on the fly or not have to upload a report and then download it when I return to the office."
Revolutionary appraisal formfilling is here.
Titan Reports gives you the power and flexibility to do anything, and go anywhere, without being restricted to your office computer. Since it's free with your membership, all you need to do is log in here.
Or, if you're not a current customer, click here to learn more, or call 866-582-5853 and ask about our Buyout Program. With our 100-day, money-back guarantee, there's nothing to lose, but everything to gain with total autonomy to run your business however — and wherever — you want.

* The 100-day, money-back guarantee is applicable on new purchases only.
Log in to Titan
Switch now